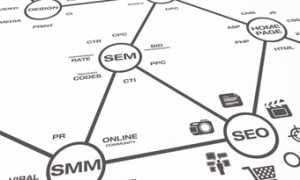 Internet advertising (marketing) services.
WEBSITE ADVERTISING CAMPAIGNES MANAGEMENT
We can offer creation of online media plans, placements selection, flexibility and ability to quickly respond to campaign effects etc.
CONTEXTUAL ADVERTISING (PPC) MANAGEMENT
Optimization and management of popular advertising systems like Facebook Social Ads, Google AdWords, LinkedIn Ads and other local contextual advertising networks.
SEO MANAGEMENT
Creation and management of various activities intended to improve website positioning in search results and optimization of website architecture according to the latest SEO standards.
We are committed to the systematic and strategic approach to the Search Engine Optimization (SEO) process together with usage of every additional promotional tools and techniques available in oreder to create long term quality effects.
E-MAIL MARKETING
Target definition, design and creation of company's mailing lists.
Optimization of company's mailing lists.
Anti-spam policy creation, management and implementations.