Where are the women who blog?
In 2005, the BlogHer founders, Elisa Camahort Page, Jory Des Jardin and Lisa Stone, all tech and media pros, looked around, scratched their heads, and asked the historic question which started it all: Where are the women who blog?
Like most of the founders we know, love, loathe, or follow in our tech-obsessed Bay Area, it's no secret that BlogHer touched a nerve and served a need — from a conference, it became a business, and ultimately a movement that drives culture and ideas. BlogHer is many things to many people: an engaged and passionate community, an ad network, a media company, a political blogging network, a coalition of engaged bloggers (and the brands that love them), passionate activists and entrepreneurs, and a platform 'by and for women.'
BlogHer grew to a point that it became necessary to branch out into sub-genre spin offs to meet demand and interest, including food, tech/entrepreneurship (BlogHer Pro), and crafts. One thing is clear: BlogHer and the bloggers who fly under her flag is growing in influence, numbers, with game changing, visible voices. It all really boils down to the power of she, and she's on the move…
Kelly Wallace, a correspondent with CNN summed it up best at BH13 when she quipped: BlogHer — where everyone knows your Twitter name.
To celebrate 10 years of building, blogging, and loving BlogHer, it made perfect sense to interview co-founder Elisa Camahort Page. Learn about her journey amidst the peaks and valleys of building a femme-pire, and sharing what she's learned on the eve of BlogHer 14 — allhappening where BlogHer was born: Silicon Valley.
Congrats BlogHer team — here's to another 10 years of changing the blogosphere (and the world)….
The Big Ask
Q: Elisa – what was the aha moment when you realized the world needed BlogHer and what was your thought process in its ideation and launch? How did you pinpoint the need — was it a hunch, massive research, or did you just go for it? Tell us about the early days, and how you knew you were on to something.
A: My two co-founders, Lisa Stone, Jory des Jardins, and I, launched the first BlogHer Conference in 2005 to answer a question that needed to die, namely "Where are all the women who blog?" There was this assumption that women weren't blogging, or would never adopt social media in large numbers. We knew then, and now everyone knows that was a total fallacy…women are the drivers behind most social media engagement today…but in 2005 it was still radical to champion women as early adopters of technology. We had an idea about moving beyond making lists and talking about awesome women on our blogs (which is great), but we had an idea for a conference to bring together, and make visible, women who blog. After the first sold-out conference, we asked the community where they wanted us to go next. The feedback was pretty clear:
– We want more events.
– We want a place to find each other online every day.
– We want a business model.
And that was our 'aha moment' when we decided to form the company with a mission to create opportunities for exactly that.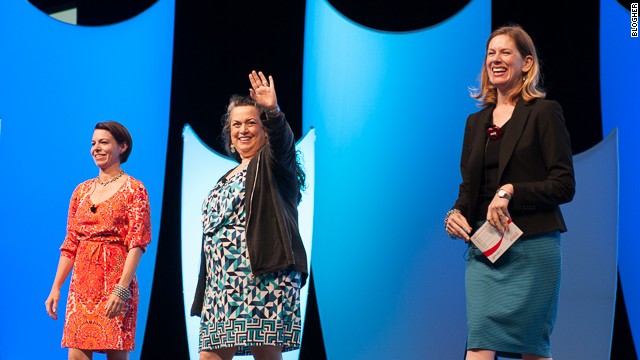 BlogHer 2013
Q: For our readers, define BlogHer in your own words
A: BlogHer is the largest community, network, and media company created by, for, and with women in social media. We reach 100 million users a month across blogs, every social platform, and our conferences. Our mission is to create opportunities for our community members to pursue education, exposure, community, and economic empowerment. And to do that we created the BlogHer Economy, connecting brands/marketers with influencers, so brands can connect with their customers, and influencers can be paid for their work. In the last five years we've paid nearly 6,000 BlogHer members $36 million dollars. And we're damn proud of that.
Q: We hear horror stories about co-founder slugfests and that classic 'Silicon Valley scramble' for control. All the BlogHer founders (at least to the naked eye) seem to gel remarkably well. Can you offer any insight into the formation of your company culture and do you have any guidelines to share with us on how you maintain this positive vibe? Is it the fact that it's a relatively 'testosterone free' environment or is it something deeper?
Is it policy or DNA? Tell!
A: Lisa, Jory and I are indeed pretty rare. Not just to be three women who co-founded a venture-back start-up, but to be three founders of any gender still running their company together almost ten years later. Many people are surprised to know that we weren't friends, colleagues, or even acquaintances when we met, and immediately decided to do the first BlogHer Conference. But working on that project for four months proved to each of us that we were a great team. I always advise people to look for the following three things in co-founders or partners:
1. Complementary skills
Having a row of nodding heads from the same perspective, expertise and background doesn't help you have a better company.
2. Equal levels of commitment, or some might say workaholism.
Lots of partnerships fail when someone isn't pulling their weight. That breeds resentment, which is never good.
3. Have the tough conversations, not just the easy ones
Running a company is hard. You need to surface bad news, mistakes, and problems quickly, so you can address them and solve them as a team. Doing so helps you maintain and build trust and create movement.
Q: Any growing pains you'd be at liberty to share? All startups have them, and sharing wisdom regarding what works and what doesn't is great insight on the 'Fail First, Fail Fast, and Fail Often' school of learning. Any tales from the trenches?
A: It's important to learn as you go, but also not to over-indulge in hypothetical "what would you differently if you knew then what you knew now" thinking. It's a mind set: the fact is that you do the best that you can do with the information, experience, expertise, skills you have at hand in that moment. The key is to trust your gut, but be able to back up concepts with data (with the knowledge that data can take the personality out of concepts). Don't be stingy about taking personal responsibility. Be willing to say "I'm sorry." Be comfortable asking the "stupid" question. Real leaders don't need to have everyone think they know everything, and they don't always need to be right. Perhaps I didn't exactly answer your question, but I wanted to really share this perspective: if you see everything that happens as part of where you are right this minute, it's not about failure or growing pains. It's about growth and evolution.
Q: Define all the moving parts of BlogHer and how it's grown from conference to ad network and beyond — and if possible, the growth spurts and 'pivots' that brought you here today…
A: Though we started as a conference, and the conference is our annual opportunity to re-invigorate our community, it's actually not the lion's share of our business. Most of our work is on the digital side…advertising in all its forms, from premium to programmatic to native, branded content and content marketing, social sharing, amplification programs, and more. We also do proprietary research via a panel of thousands of women in our community. Over the years we expanded our business beyond blogs only to include all the emerging social platforms. And over the years the advertising world itself has gotten more complex, so it basically feels like you must constantly adapt if you want to stay a leader…and adapting which is what I like to call it, as opposed to pivoting.
Queen Latifah with some ecstatic lady-bloggers, including @katiaDBE. #blogher2013 @iamqueenlatifah pic.twitter.com/lIvm4lovzX

— The Life Nostalgic (@LifeNostalgic) July 29, 2013
Q: Can you share your first insight from the 'top of the mountain' — how did you know you had 'made it' and this thing was going to work?
A: It's hard to relate to this question, because the constant adapting and evolving and growing means you NEVER feel like you're at the top of any mountain. Never. That being said, we knew there was a there-there at the very first conference. We knew there was a community full of talent, passion and motivation, and we knew there was a way to serve that community for the betterment of us all.
Q: Can you share your first insight from the 'depths of the valley' — what did you learn and how did you turn things to a positive with your hard-won experience?
A: Look, you can't stop the clock or the calendar. Tomorrow really is another day. And another opportunity to try to get it right. People ask me how I stay so calm during the lead-up to and at the conference. It's because after all these years I know too well that you blink, and it's over, and you know what? It really will all turn out OK.
Q: What is your next pivot for BlogHer? Will there be a conference space large enough? Where do you go from here? (ie: Branson went to outer space, you will go to _________)
A: I can tell you the areas where we will continue to *evolve*…and where we believe the industry is evolving:
1. Mobile, OMG That shift has been here and gone, and there is still a lot of work for everyone online to do if we really want to monetize the mobile audience
2. Video Video is not just a big traffic and attention-driver; it's a results driver. We see higher engagement and higher lift when influencers share their perspectives via video. I, personally, am always saying I want to learn more about creating videos…so we need to bring all our members along with us on that journey.
3. Results I often say that customers don't want to pay just for your reach; they want to pay for your results. After all these years at it, you know what? The industry should be doing a better job of delivering predictive insights and guaranteeing outcomes. That's what we're doing: using our proprietary campaign analysis and reporting tools — when we say, "we can guarantee…" most customers look shocked that we're willing to go there. But it should become pretty standard.
Q: What are the three most important pieces of advice you can give your core audience (professional bloggers and women in tech?)
A: Sure, here are my favorite three pieces of advice:
1. Money doesn't buy happiness (past a certain point), but it does buy freedom. Don't over-extend or over-leverage yourself. Give yourself the freedom of a fat bank account…the freedom to walk away; the freedom to take a risk; the freedom to make your big idea a reality.
2. Ask yourself what's the worst that could happen if I fail? Make the answer concrete, not abstract. Answer it in detail. Sometimes our abstract fear holds us back, but if we really thought it through we'd realize failure isn't the end of the world; it's not a tragedy. Sometimes, instead, it's a catalyst.
3. Consider yourself a Minimum Viable Product. Stop waiting to be perfect to put yourself out there and go for opportunities. Don't be your own barrier, plenty of other people will be happy to serve that purpose in life.
Note to self… http://t.co/zRB6tsTrC3. #BlogHer2013 — Brave Bosom (@BraveBosom) July 29, 2013
Q: In closing, can you give us some highlights of your 10th anniversary highlights? Any surprises in store? Anything you are doing differently here than you've done in the past?
A: Oh my goodness, so many things:
1. Notable Keynotes: Kerry Washington, Guy Kawasaki interviewing Arianna Huffington, Best-selling author-blogger Jenny Lawson, Grammy-nominated comedian Tig Notaro, Kara Swisher interviewing eBay CMO Richelle Parham, not to mention our annual Voice of the Year community keynote, featuring 12 readings from the year's best blogging.
2. Prolific Programming covering everything from the craft of writing, the monetization landscape, hands-on technical Geek Bars to personal blogging, and blogging for social good and social change.
3. Tribe Up and Thrive via our Birds of a Feather mini-conferences on Saturday afternoon — our new, expanded Birds of a Feather concept for 2014.
4. Parties and Networking every night, featuring an open mic for blog reading, karaoke, champagne toasts, and a closing party that we can only tease you with right now.
5. Our new BlogHer Buddy System, facilitated by our Official Communications Sponsor, Skype, which is a way to connect with attendees before, during, and after the conference.
@emilyahay perfect recap of #blogher2013 –> My Top 10 Lessons from BlogHer 2013 http://t.co/KzwUYH84tx #blogging #leanin #techladies — Rachel Schostak (@rayprinst) August 27, 2013
Technorati Readers
Want to go to BlogHer 14?
The networking, the sessions, the speakers and the fun?
Sign up here for 20% off the show price.
Use Promo Code: BHTECH.
The post Building a femme-pire: 10 years of BlogHer [Interview] appeared first on Technorati.